Living in Denial
Living in denial: we are actually quite good at it. We are "naturals." 
We are good at turning away from harsh and painful realities, pretending they aren't there. It's a common coping strategy. And perfectly normal in the short term when we are hit with unexpected news. We've all done it in one fashion or another. Denial is one of those famous "stages of grief." And there's been plenty to grieve this year.
We are also good at magical thinking, expecting our fierce desire to bend the course of reality to our hopes, rather than changing our plans for a world wildly out of our control.
Here's the thing…
Jesus actually counsels living in denial.
As we'll see this Sunday in worship, it's just a very different kind of denial. One that can help us face the harsh and painful realities we can't escape in 2020, and also one that helps us change what can truly be changed. Living in this denial won't feel very natural… it will feel more like grace.
See you Sunday,
PS – When disasters like Hurricane Laura strike, Week of Compassion will be there. I am so grateful for our Disciples relief, refugee and development mission fund, which partners with impacted communities for long-term healing (a partnership that persists long after the cameras and headlines have left). South Elkhorn supports the work of Week of Compassion each year with a congregational gift. Every year the South Elkhorn family makes additional, individual gifts as well. If you'd like to support the relief efforts through Week of Compassion, you can text WoC to 71777 or click here.
Also, learn more about Week of Compassion's COVID response here.
PPS – So about that hurricane… remnants of the hurricane may make their way through Kentucky this weekend and interrupt our Drive-In movie plans. We do have a rain date should we need to postpone: September 18. Stay tuned to emails, social media, text messages, or call the church office. You can be sure to get updates by RSVPing as we'll email those folks first.
Fill out the prayer request form 
here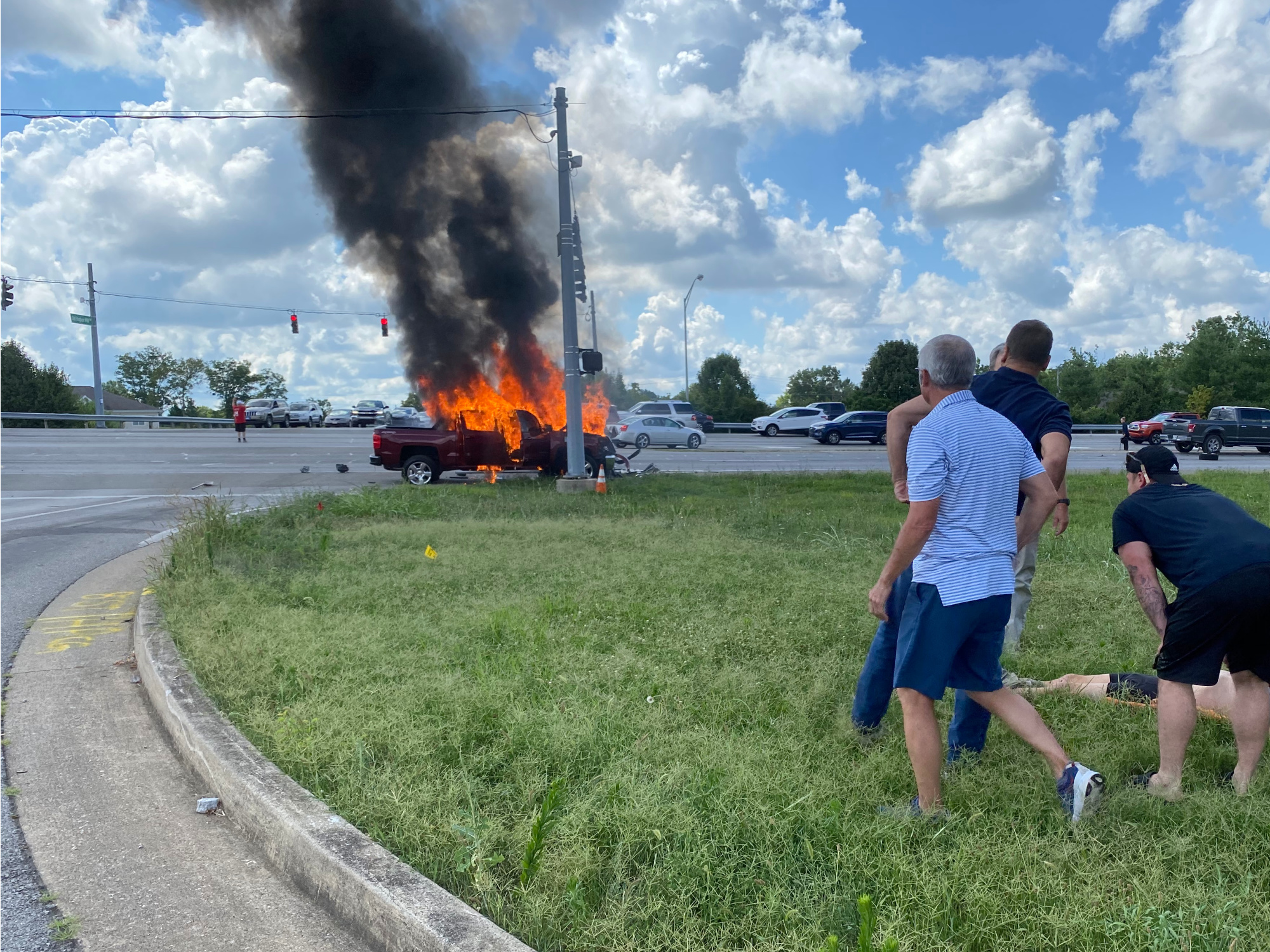 A noticed a quiet, determined young woman who was stabilizing one of the drivers. She stayed with him the entire time, holding his head even as the first responders worked on him and ushered everyone else away. Later I asked her if she was a doctor or medical professional. She said, "I'm a welder. I just started training with OSHA."
Holy ground. I could almost hear the sound of Moses' voice ("I'm only a shepherd, but I did stand up to the Egyptians once"). We don't always realize how God has been preparing us for the unexpected, equipping us in odd and wondrous ways for a life-saving moment.
The driver with the young woman was conscious. In pain. And begged for a mask. I gave him the fresh one in my pocket.
I ran back to the church and returned with a cart of bottled water and masks sewn by church members.
One of the big, muscle-bound first responders didn't have a mask and needed to work near the face of the now-masked driver. I gave him the one on top of the pile. Later his first-responder buddies thanked me for the pink, floral-printed mask I (unintentionally) chose.
Sweaty brows, life-saving team-work, big smiles. Holy ground.
The church provided waters and masks to the unexpected heroes and first responders who saved two of God's beloved that day.
Flames. Bare Feet. An unexpected call to act. How could I describe it as anything other than holy ground.
As I pushed the cart with waters, masks, and a fire extinguisher back to the church, I felt the blisters forming on my bare feet. My sandals were somewhere near the wreckage. I'll get them later.
Holy ground hurts. But it's worth it.
See you Sunday,
PS – We are planning to gather for outdoor worship again this Sunday (9:30 AM). Of course, rain and storms might derail those best-laid plans. And, if so, you can share in zoom worship at 9:30 AM (the instructions and links are available each week on the website). Zoom worship will reflect what was planned for our outdoor service (prayer, song, scripture, communion) and offers you a chance to see the faces and hear the voices of our church family. I will record and release the sermon separately following the service, which you will then be able to find on the church website, podcast, or social media.
August 2 –  Exodus: Return – Exodus 4:1-20
August 9 –  Exodus: Redouble – Exodus 5
Find the online prayer list at www.southelkhorncc.org/prayer-list
Fill out the prayer request form 
here