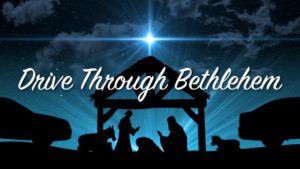 Our church presents Drive Through Bethlehem on the second Saturday of every December (December 14, 2019) as a gift to the community. For three hours, hundreds of cars line up to see the live presentation of nine scenes of the Christmas story come to life. Our members dress in costume and take their places as shepherds, angels, Roman soldiers, Mary and Joseph. One of the unique features of our Drive Through Bethlehem is the presence of many animals. We have sheep, donkeys, cows, and a live camel every year.
Worship
Out of great love for one another, there is no indoor worship at this time. Learn more about outdoor worship here.
Our Vision
To be a family of faith united in service.
Our Mission
To love God and neighbor in Worship, Witness, Fellowship, Service, and Discipleship.