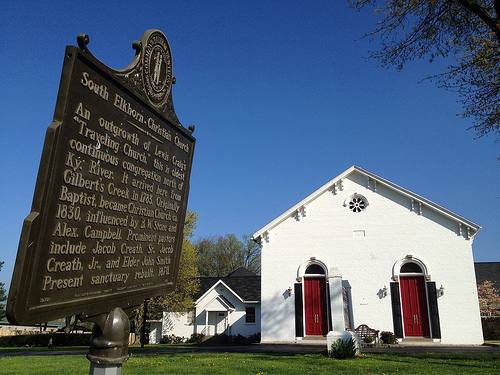 South Elkhorn Christian Church was formed as a Baptist Church in Upper Spottsylvannia, Virginia in 1767. At that time, the only recognized church was the Church of England. All other denominations were required, by law, to buy a license to preach. Many of the Baptists believed this law to be unjust and decided to seek religious freedom elsewhere.
In September 1781, the congregation joined a wagon train of six hundred people and traveled to Kentucky. Included within the wagon train were six ordained ministers, the official church records, books, the Bible and a simple communion set. The journey took three months and covered 600 miles to Gilbert's Creek.
Two years later in 1783, the "traveling church" left Gilbert's Creek and crossed the Kentucky River. They followed a buffalo trail to the banks of South Elkhorn Creek, in what is now Fayette County. The church located at its present site in May 1783, and became a Christian Church during the Restoration Movement of the 1820's and 1830's. A brick sanctuary was completed in October 1870, and is still currently in use. Since our original structure, there have been renovations and additions to accommodate our growing congregation, with our most recent addition completed in 2003.
In the early days of South Elkhorn Christian Church, service began with a period of Christian fellowship, and often ended with basket dinners and each family sharing a special dish or treat. The South Elkhorn congregation continues to share fellowship, as well as special dishes and treats, and hopes to continue this tradition for many years to come. Join us any Sunday, you're always welcome!
A book that explores the history of South Elkhorn Christian Church is available here:
Our Mission
Inspiring Christ's deeper way of love
Our Values
Extravagant Welcome
Real Rest
Spiritual Resilience
Courageous Conversation
Contagious Joy