Returning to Indoor Worship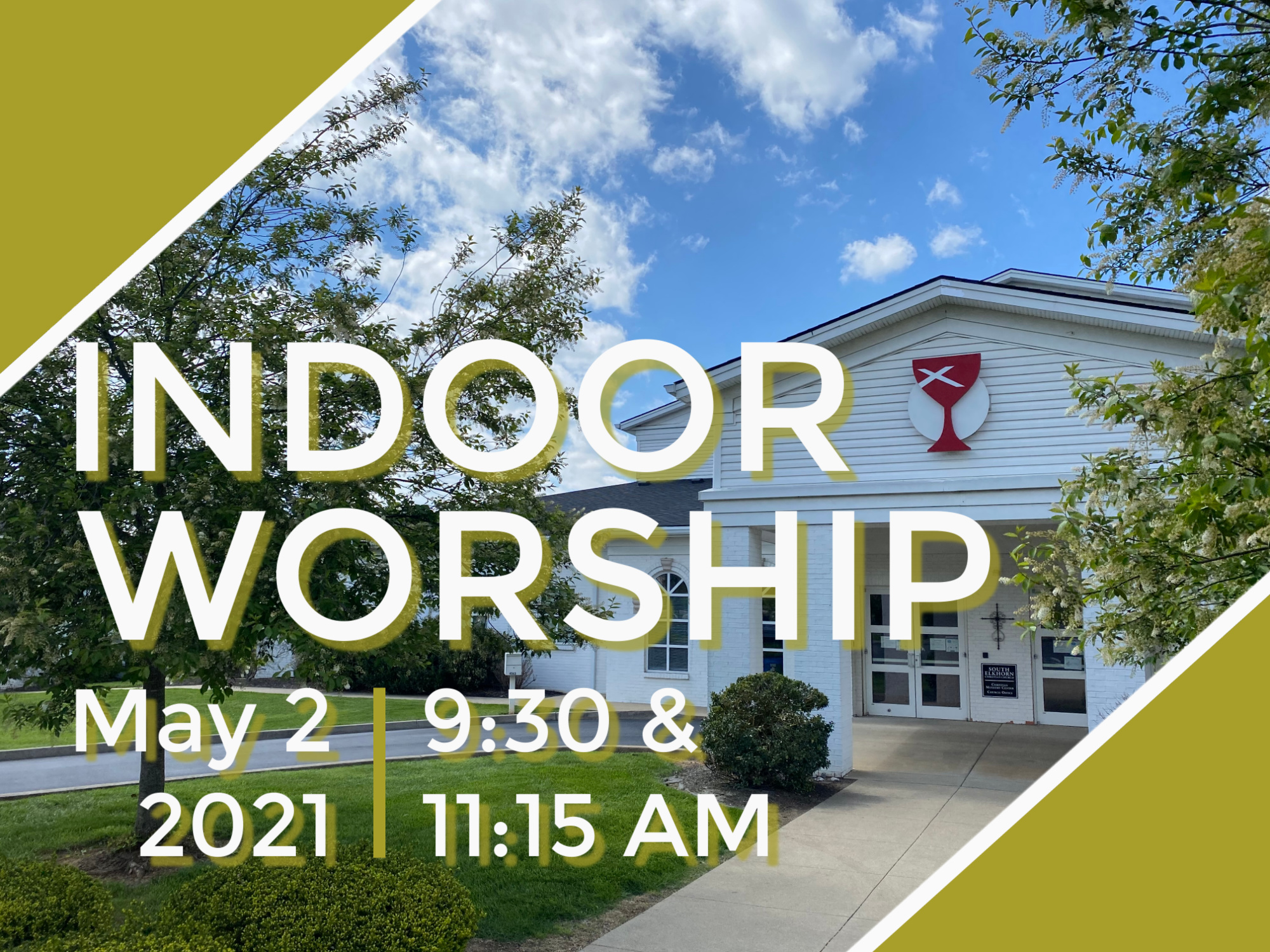 Sunday, May 2, 9:30 AM & 11:15 AM
South Elkhorn Christian Church
On May 2 you are invited to attend one of two 35 minute worship services with a capacity of about 100 people in each service.
Registration is required. Registration is on a first-come basis and will close when we reach capacity.
Please use the link below to register. If you are comfortable sitting with a friend or another family, please consider registering with them on one registration form. Please list the name of each person who will attend with you in your group.
There is no assigned seating. Ushers will be present to assist groups finding available seats. Please keep at least two seats between your group and others.
WHAT TO EXPECT
Worship won't be quite the same as we might remember it before the pandemic.
God will still be present. And the deeper way of Christ's love invites us to meet this day with creativity and joy. 
Mask-wearing: For the safety and comfort of our entire church community, and in Christian love for one another, everyone age 3 and older must wear a mask (over nose and mouth) and practice physical distancing at all times while present on campus and in the building. If you cannot or prefer not to wear a mask, you can still share in worship:
Registration:  All worshippers are required to register ahead of time. Registration closes on Thursday at 5:00 PM (April 29th). You can register using the link below or calling the South Elkhorn office at 859-223-1433.
Temperature Screens: Greeters will welcome you at or in front of the door beneath the red chalice. They will check your name on the registration list and ensure we have names recorded for everyone in your group. Once you are temperature screened you can enter the building. Any temperature above 100 degrees will not be permitted to enter.
Hand Sanitizer: Sanitizer stations are available throughout the foyer and at each entrance to the worship area.
Bathroom use: Bathrooms are available for your use. Stalls are  taped off so that only one is available for use in each bathroom.
Offering: Offering plates will not be passed during the service. As you enter, deacons will be in the foyer to collect tithes and offerings at a secure drop box before the service. Tithes and offering can also be mailed to the church. If you'd like to give electronically, you can learn more about those options here.
Seating: There are no assigned seats. Ushers will help you and your group find open seats. Please keep at least two seats between your group and others sitting in your row.
Singing: There will be music and song from the stage during worship, but there is no congregational singing at this time. There will be other creative ways for you to participate in the songs and worship experience.
Communion: Pre-packaged communion (sealed wafer and cup of juice), along with a bulletin, will be on your seat when you arrive. You may briefly remove your mask to share in communion when the time comes in the service. Please return your mask over your nose and mouth.
Dismissal: Following the benediction, ushers will dismiss rows from the back to the front. Please wait patiently until your row is signaled to stand and depart. Exit the building before saying hello and chatting with others (mindful of mask wearing and six feet of physical distance).
Children's Worship & Wonder: For parents with children ages 3 – grade 3, Worship & Wonder programming will happen at the same time as worship. Drop off and pickup is at McMahan Hall (next to the Faith, Hope, and Love Garden). Masks are required for children. Do not walk through the building, please drop off and pick up from the outside entrance.
Nursery: A nursery is available for children 6 week – 2 years of age. Masks are not required for children in the nursery. The nursery is located inside the Christian Ministry Center (entrance below the red chalice) along the hallway to your right when you enter the foyer. Note: the side door to the Christian Ministry Center (next to the kitchen) will not be available for use.
Frequently Asked Questions
Ways you can worship
Indoors – register here

You can remain in your car in the church parking lot and tune into the radio frequency 91.1 FM

You can remain at home and watch the live stream