Indoor Worship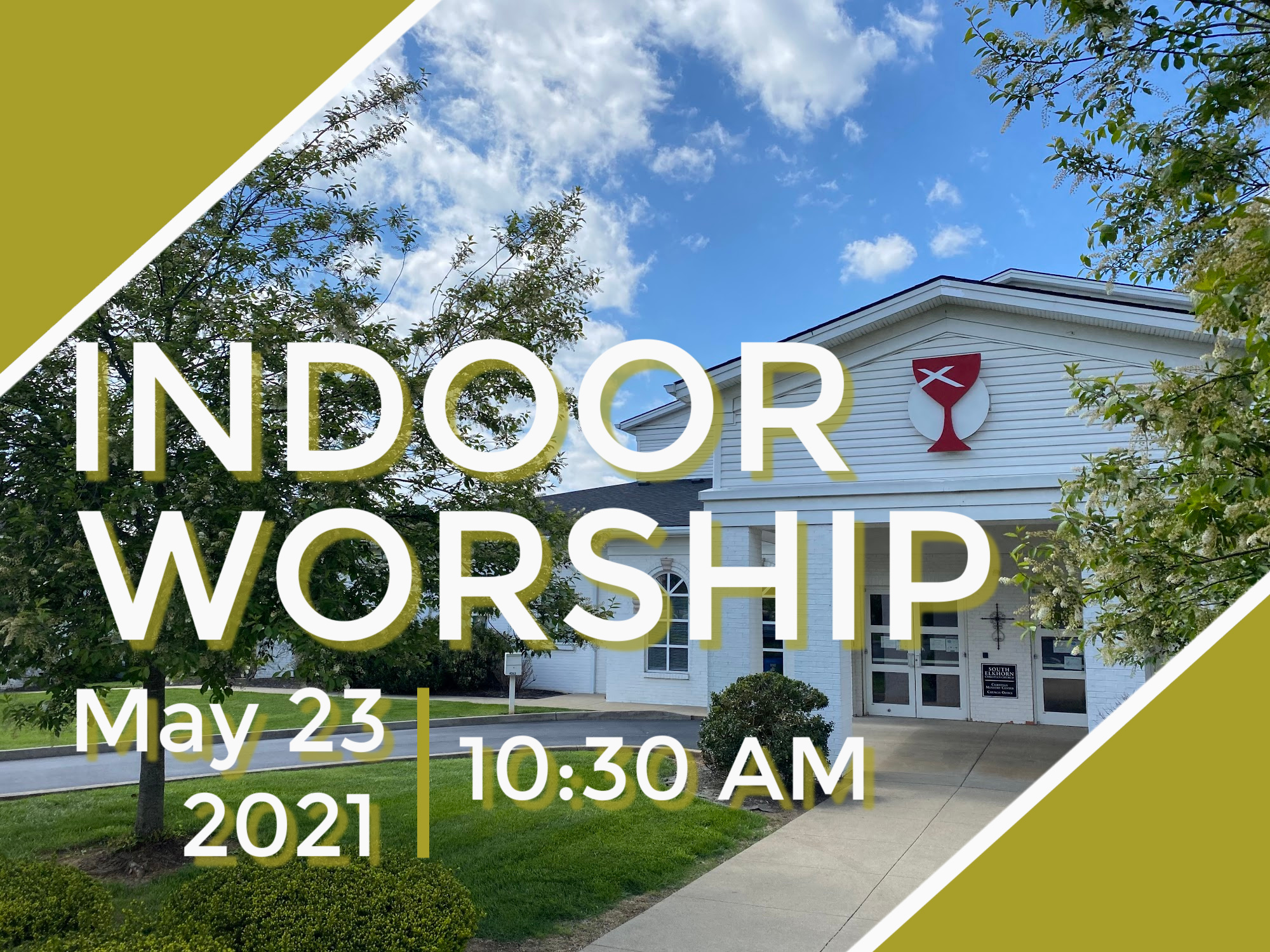 Sunday, May 23 UPDATED
One Service: 10:30 AM
South Elkhorn Christian Church
On May 23 you are invited to attend an indoor worship service at 10:30 AM.
Registration is on a first-come basis. Please use the link below to register.
WHAT TO EXPECT
Updated to reflect recent changes in guidance from the Centers for Disease Control and the Commonwealth of Kentucky.
Mask-wearing: Out of Christian love for those unable to yet receive the vaccine, and for those with compromised immune systems, and in accordance with public health guidance, all unvaccinated worship attendees should mask. For those who are fully vaccinated, in accordance with public health guidance, mask-wearing is optional.
Registration:  All worshippers should register ahead of time. Registration closes on Saturday at 5:00 PM (May 22nd). You can register using the link below or calling the South Elkhorn office at 859-223-1433.
Other ways to worship:
Hand Sanitizer: Sanitizer stations are available throughout the foyer and at each entrance to the worship area.
Bathroom use: Bathrooms are available for your use. Please do not congregate and socialize in the bathrooms.
Offering: Offering plates will not be passed during the service. As you enter, deacons will be in the foyer to collect tithes and offerings at a secure drop box before the service. Tithes and offering can also be mailed to the church. If you'd like to give electronically, you can learn more about those options here.
Seating: There are no assigned seats. Ushers will help you and your group find open seats. Two chairs can be claimed on either side of you or your group for physical distancing. The back row of the worship area offers seating for more physical distancing.
Congregational Singing: you will be invited to share in song during the service.
Communion: Pre-packaged communion (sealed wafer and cup of juice), along with a bulletin, will be available from the foyer as you arrive. If you are wearing a mask, you may briefly remove your mask to share in communion when the time comes in the service.
Children's Worship & Wonder: For parents with children ages 3 – grade 3, Worship & Wonder programming will happen at the same time as worship. Drop off opens at 10:20 AM (10 minutes before worship begins). Drop off and pickup are in the Worship & Wonder rooms adjacent to the foyer. Masks are required for children and adults working with children.
Nursery: A nursery is available for children 6 week – 2 years of age. Masks are not required for children in the nursery.
Frequently Asked Questions
As not everyone has yet had the opportunity to complete the vaccination process, we wish to be as inclusive as possible.  Further, as a congregation that practices extravagant welcome, we want to welcome everyone that feels safe attending regardless of whether they have been able to, or would even elect to, be vaccinated.  Finally, we do not wish to ask for personal health information due to privacy and legal concerns.
Yes!  We are making investments in our streaming abilities to further grow this ministry, not only for those concerned regarding the pandemic, but in order to grow our presence.  During the pandemic our message of Christ's inclusive love has grown to include digital members. We are continuing (and improving!) our digital presence.  If you don't feel comfortable returning yet, please join in online!
Ways you can worship
Indoors – register here

You can remain in your car in the church parking lot and tune into the radio frequency 91.1 FM

You can remain at home and watch the live stream