South Elkhorn Christian Church, in Lexington, Kentucky, has been continuously located on the banks of the South Elkhorn Creek since 1783. The Traveling Church settled here in the same year the Revolutionary War officially ended and nine years before Kentucky became a state. We trace our roots back even further to the founding of the Upper Spotsylvania Baptist Church near Fredericksburg, Virginia in 1767! Our church has been a changing, growing, dynamic church for over 240 years now.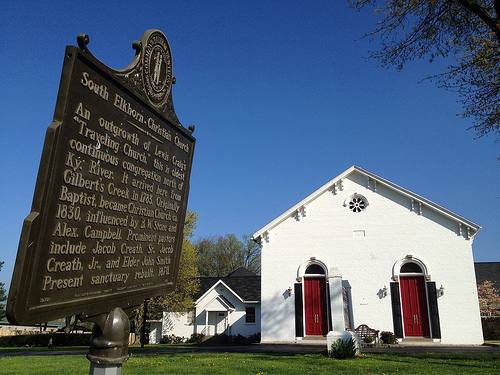 For almost 200 years, our church was "the little white church with red doors" set in a farming community. But then Lexington expanded, and we became a suburban church. Today, our church has made the transition from a sleepy country church to a dynamic, growing suburban church with multiple staff and a wide variety of ministries.
Everyone who comes to our church proclaims it to be the friendliest church they have seen. Our people love to welcome newcomers into our fellowship of faith. We invite you to browse through our website to learn more about us and plan a visit soon.
Our Mission
Inspiring Christ's deeper way of love
Our Values
Extravagant Welcome
Real Rest
Spiritual Resilience
Courageous Conversation
Contagious Joy