Events, resources, and opportunities this Advent
Advent Devotional
We hope this devotional might awaken you to the ways God can't wait to create hope, peace, joy, and love. We invite you to carve out time each day to listen for God speaking to you through art, poetry, silent reflection, and embodied prayer. As we are called to action during this season, may we also be mindful of what can wait—for we are also called to rest and receive the gifts of Sabbath. This Advent, join us in imagining, prioritizing, and preparing. As we wait, what can't?
You can pick up a hard copy of the Advent Devotional in the church foyer, or you can  download and print at home using the link below.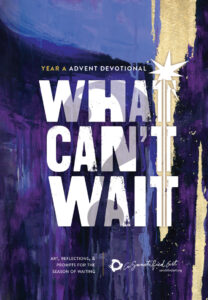 Christmas Eve Worship
December 24
4:00 & 8:00 PM
Experience the meaning, mystery and beauty of this holy night. A simple worship service is filled with the warmth of scripture, song and candlelight. The service closes in the song Holy Night as candles are lit and raised to welcome the Christ child. Nursery available for children 6 weeks to two years.

Christmas Day
December 25, 2022
Sunday, 10:30 AM
Celebrate the joy and beauty of Christmas gathered for a unique worship service. Children (and all ages) are invited to wear their Christmas PJ's and/or a Christmas sweater. The service includes a telling of the Christmas story, communion open to all people, and songs for the season.  No Worship & Wonder as the service will be child-friendly. Nursery will be available for children ages 6 weeks to 2 years.

New Year's Day
January 1, 2023
Sunday, 5:00 AM
Welcome the new year with a creative, contemplative evening worship service. Note: there is no 10:30 AM service. Nursery will be available for children ages 6 weeks to 2 years.